---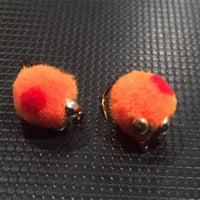 (Mustad Hooks) #12 High Quality Muppert Glo Bugs Dumbbell Eyes Orange
Speedline Fishing Store
Regular price $1.00
Tax included.
Shipping
calculated at checkout.
Tied on premium hooks---Mustad Hooks
Size---#12.

High quality flies
The Muppets Glo bugs with Dumbbell eyes
The most commonly used rig during the spawning run is without doubt the Bead Head nymph and Glo Bug combination. Usually the Glo Bug is on a dropper about 30 - 40cm behind the Bead Head. The nymph is usually a Tungsten Bead Head and it's size and weight can be varied to suit the flow. a strike indicator The positioning of the indicator also varies depending on how deep fish are and also the water flow. In strong flows and when fish are holding deep the indicator is often only 25cm from the fly line itself. The actual nymph pattern varies and the Glo Bug can also vary in size and there's a lead eye weighted Glo Bug known as the Muppet. The most important factor is definitely presentation and getting the fly to pass trout at the same depth they're lying in is paramount. Remember the fish are not really feeding well at this time and the won't move far for the fly. They're also expecting eggs (that's what our Glo Bug represents) to be drifting along the bottom and definitely not floating! Glo Bugs do tend to work much better once some fish have spawned and there are eggs rolling down the river. As the run progresses many fish will spawn on the same gravel and be digging up the eggs of earlier spawning fish.

Buying something else? We will combine shipping for you.