---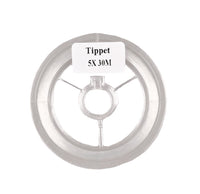 Tippet Line 3X , 4X , 5X , 6X
Speedline Fishing Store
Regular price $5.00
Tax included.
Shipping
calculated at checkout.
Available in size :3X,4X,5X,6X.
Length------30M
Size:                       3X         4X        5X        6X
Strength                8.8lb    6.8lb     4.8lb    3.7lb
Diametre(inch)        0.009   0.007  0.006   0.005
Makes exceptional strength to diameter ratio. You can use lighter tippet to fight with fish without worrying about breaking off. Special coating ensures this clear non-shiny material is almost invisible in water and highly abrasion resistant compared to other brands. Beautifully supple for presenting flies perfectly and has little or no memory! Pull and any kinks drop out easily. Exceptionally strong fine diameter material with superior knot strength, wet or dry, with unique formula ensuring minimum water absorption (and extra long shelf life). Thoroughly tested, this really IS better than anything we have seen or tried before. Available in 30M spools (with line retainer) which clip together. New designed super slim and large arbor spool, ideal minimize memory effect and also excellent match with tippet holder. All spools have one colored elastic string to keep tippet well arranged.
Buy more? we can combine shipping for you.